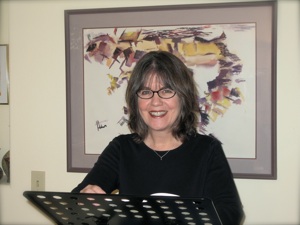 Let's pick this story up in mid-1970… I was a college drop out with no skills so moving to California seemed like a very good idea at the time. Bye bye Chicago. I had some Southern California adventures. (I have no regrets.)
I made my way north to Los Angeles and also back to school as a re-habilitated student. Eventually I got through grad school, got licensed as an LMFT and opened a private practice while I also worked for a respectable number of non-profits as a bleeding heart liberal pro-bono volunteer.
On the home front, up in Topanga Canyon, I acquired a house with a killer view, a couple kids, a husband, two dogs, one cat, a bird, a hamster a whole series of gold fish, an ant farm, and all the trappings. Those were the days!
Some time in there we moved out to the 'burbs and then I was in the right place at the right time and I wound up teaching, at Cal State University, Northridge and Moorpark College.
Now I live in Portland, OR where I'm a full time writer person. The city's motto is, "Keep Portland Weird". I'll say no more.
I still have the husband and a different, equally splendid killer view, but the kids, animals and all other living creatures have moved on to better things and different addresses. We keep in touch via text mostly.